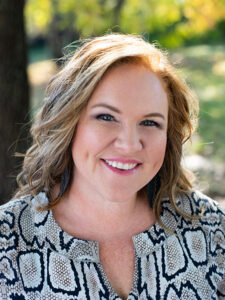 Apply with Lyndsey
Direct: 865-392-4158
Cell: 865-437-7502
NMLS: 882840
Email: llogan@fcls.com
Lyndsey understands that purchasing a home can be very stressful and overwhelming. She uses her knowledge and skills to make the process as smooth as possible. She enjoys working with clients to customize the perfect loan product to meet their specific needs. Whether you are a first-time home buyer or looking to refinance your home, Lyndsey is committed to helping you find the mortgage program that best fits your individual situation.
Reviews:


Steve and Lyndsey Logan and their team are always a pleasure to work with! The transaction is always smooth and on time, and they are very proactive and knowledgeable. As a title agent, it is great to work a closing with them because I am never left waiting for things we need, and they keep the transaction driving forward to the closing table. Choosing the right lender makes all the difference!! -Vanessa


I have loved working with Steve and Lyndsey Logan to help my clients become home owners. They are knowledgeable and always responsive. Would definitely recommend to anyone needing to finance or refinance a home. -Lindsey


Steve is always great to work with. He always answers in a timely manner, is always helpful, and gets the job done! I highly recommend Steve and Lyndsey for all your lending needs! -Elaine


Lyndsey was so great to work with. We had our pre approval quickly. She communicated every step of the process and got our deal closed with no issues. Highly recommend! -Jennifer


Steve and Lyndsey were very accommodating to us and our individual situation. They helped us explore multiple loan options and explained everything on a level that would could understand. They were always available for questions that we had and never left us hanging. Will absolutely use them again for our next home! -Jordan


Definitely recommend First Choice Lending Services, LLC. Lyndsey Logan is the BEST! Everything went quick and easy! -Megan


Absolutely the best experience in purchasing our home!!! Lindsey took care of us at every turn!!!


Lyndsey and Steve Logan went above and beyond for our home purchase. We relocated from Florida to TN and recently purchased a beautiful home for our family. Lyndsey is very knowledgeable and always quick to respond to any questions we had! The process couldn't have gone any smoother. We will definitely be recommending First Choice Lending to any friends or family that are looking to purchase a home in the future! -David


Lyndsey Logan made our entire real estate purchase a breeze. While there are always complications when it comes to the closing, Lyndsey stayed in constant communication with us so that we knew exactly what our next steps needed to be. We can't recommend her enough! – Rhonda


My husband and I are going to be looking to purchase a home by the end of this year. Our realtor referred us to Lyndsey Logan, she spent time talking to me on the phone and answering all my questions. We are so appreciative and cant wait to purchase a home! – Janell


Lyndsey Logan is fabulous to work with and she is just the sweetest lady you'll ever meet. So easy to talk to and makes you feel at ease when going through the home buying/selling/refinancing process. I would highly, highly recommend her to anyone. -Ruth


Thank you so much Lyndsey Logan for helping me thru my recent refinance for a new loan. You helped me every step of the way and I really appreciate it. I really enjoyed working with you. God Bless. -Donna


Steve and Lyndsey Logan are the ultimate professionals. Our experience with them was outstanding. Wonderful people! -Jason


Lyndsey provides a great service to her clients. She puts them at ease and guides them through the financing side of the homebuying process.She is responsive to both the clients and the agents that she works with. Getting to the closing table text teamwork and Lyndsey is an integral part of the team. I would recommend her to anyone! -Michelle


We have worked with Lyndsey to finance our home and now working with her again to refinance. Both experiences have been awesome! She is on top of everything and communicates quickly. We appreciate her and the work she has done for us! We highly recommend First Choice Lending!! -Terra


Steve and Lindsey Logan are the most professional brokers to work with. They provide great customer service and are with you all the way through the process of your mortgage needs. I would highly recommend them to friends. -Donna


Lyndsey was so wonderful to work with on our recent home purchase. She was always very accessible and helpful to work with and made the hiccups we encountered along the way easy and non-stressful. -April


Steve and Lyndsey are great business partners! They have been one of my go to lenders from day one. They are both willing and ready to get my clients pre-approved quickly and then once the process starts they keep me well informed as well as my clients. I'm so happy to have them in my corner as a real estate agent. -Penny


Lyndsey and Steve Logan of First Choice Lending are two of the best mortgage lenders I've had the pleasure of working with. From start to finish the attention they give to their clients and business partners is unmatched! Highly recommend Lyndsey and Steve Logan! -Sarah


Great Team! Always reliable and Honest. – Coldwell Banker Jim Henry & Associates


Awesome group of lenders! I have closed more transactions with this company than I can keep up with and they are always, professional, great communicators and get it to the closing table! Can't say enough nice things about them! -April


Working with Steve and Lyndsey Logan at First Choice has been a great experience. These people are awesome with first time buyers, putting them at ease through a rather difficult process. They make the buying experience a great one. -Patti


I've worked with Steve and Lindsey on several homes that I've sold. Always professional and on time with everything we need. I highly recommend them for any of my buyer prospects. -Cheryl


Steve & Lyndsey Logan are both very knowledgeable in their field. I have worked with them since I started in the field of real estate. They have always been able help anyone I send their way, from potential clients who are asking questions to the clients that they attend closing with. A joy to work with and quick responses. Would recommend. -Micki


Steve Logan & First Choice Lending Services made the process of getting and securing a great mortgage really easy for us. My wife and I were really impressed with how personable, professional, easy to reach, and how highly organized and detailed Steve is. He truly has a heart of a servant. Thank you Steve for helping my wife and I navigate the whole mortgage process so seamlessly! – Chad


I have had the pleasure of working with Steve and Lyndsey Logan on multiple occasions and it has always been second to none! Their attention to detail, customer service, and knowledge of the mortgage industry is super! I never doubt they will take excellent care of my clients! I highly recommend them for all your mortgage needs! Call them today. – Darrin


Lindsey was great! Thanks so much! -Damarcus


Lyndsey and Steve worked tirelessly to lock in the best rate for our refinance. They answered all our questions and walked us step by step through the entire lending process. -Heather


Lyndsey was so helpful while working with me on purchasing my new home! She answered all the questions usually within minutes of emailing her! I highly recommend her and First Choice Lending! -Laura W.


Lyndsey waas absolutely AMAZING to work with. She explained every detail and ensured that my husband and i undedstood every step of the home buying process. I would recommend her to anyone interested in purchasing a home. -Janie W


Lyndsey was extremely helpful in assisting us with the purchase of our forever home. We had a tight timeline to work with, but Lyndsey and her team delivered every step of the way. She was also very good about explaining options as well as pros and cons with each scenario. I highly recommend Lyndsey and the First Choice Lending Services. -Shane


Lyndsey did a wonderful job making the closing process smooth, easy, and stress-free. She was very helpful explaining all of my questions and getting all of my paperwork ready and done on time for closing. I would highly recommend her to friends and family 5/5*. -Kevin


These people are the best! And Lyndsey Logan is the sweetest person to work with. -Ruth


Lyndsey was perfect to work with. She answered every single question we had, and made the process of purchasing our first home as smooth as possible. We called her several times, and she always helped us out. She was much appreciated! -Alexandra


Love the service we got from Lyndsey and First Choice! We were nervous about the all the details of buying a new home but they made so easy and painless. Communication was top notch and they answered every question we had quickly. I absolutely recommend First Choice Lending. -Bobby


Lyndsey was very helpful & very thorough & did an excellent job for us. We were under a very tight deadline & she came through for us with flying colors. Would highly recommend her & will absolutely use her services again in the future she we decide to purchase another home. -Nathan


Lyndsey Logan was an absolute Rockstar throughout the entire process!! She was very communicative and kept us in the loop every step of the way. If you are ever considering using another company, DON'T. They are your best bet!! Thank you Lyndsey and the entire team at First Choice Lending for a seamless experience!! We couldn't be happier. -Leanna


Lyndsey Logan was great to work with. She went above and beyond to make sure all questions were answered, we had everything we needed, and we understood the process. Being self employed I had to provide a bit extra paperwork and information, she made that process easy. I would highly recommend working with her! -Mike


Lyndsey was fantastic. She got back with me right away whenever I had a question. She explained things very well so I felt informed throughout the process. I would highly recommend her and First Choice Lending for those looking to buy a home. -Andrea


Awesome experience working with Lyndsey Loga. I am a first time home buyer and knew absolutely nothing about the process and she made it as great as it could be. Always friendly and helpful with any questions I had and explained everything very well. Thank you Lyndsey I highly recommend working with her. -Tucker


Very professional and friendly. Lindsay was awesome, she helped me on my first home buying experience. Highly recommended this company to anyone who are looking to buy a home in the future. -Scott