A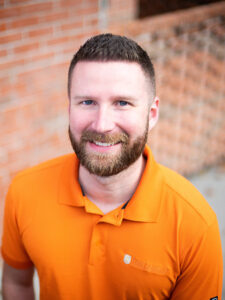 pply with Josh
Direct: 865-392-4147
Cell: 865-256-0966
NMLS: 144531
Email: jheffington@fcls.com
Josh Heffington is a longtime resident of Tennessee, having attended college at the University of Tennessee and worked with First Choice Lending for a number of years. He was drawn to the mortgage and loan industry by his desire to help people buy their dream homes and to help first time home buyers navigate the world of loans and mortgages. First Choice was a natural place for someone with Josh's skills and interests.
First Choice draws a large number of employees who enjoy helping first time home buyers and thus has built an impressive history of helping families navigate home purchases. First Choice's many loan product options and its policy of customizing loan products for its customers has made the company very successful since the day the business opened its doors.
After graduating from UT, Josh began giving back to the people of Tennessee and Kentucky by joining the team at First Choice. He believes that a home is the most important asset that most people buy, and as such he wants to help people navigate their home buying experience to the best of his ability.
Reviews:


I have been fortunate to have found First Choice Lending early in my Realtor career. I have 19 years of using them as my main lending. Steve Shelton has always been extremely available and will always take care of any issues, which are very rare. Josh Heffington is my main loan officer. I was very pleased when I attended a meeting last week and a referral I gave him, thanked me and said she was thrilled with them. I was not involved in this transaction. I have NEVER had anything but top of the line service from First Choice. They care and always listen. They are far the best. -Sue


Absolutely amazing experience start to finish. Josh and Ashley were amazing to work with, very organized and efficient. We will be using this company from now on and highly recommend! -Ashley


We worked with Josh Heffington for our most recent refinance. He was extremely knowledgeable, kind, and quick to reply! He had our refinance approved and ready to close in less than 45 days- we are thrilled!
This is the 3rd time we have used FCL for our lending needs. They truly are our first choice when it comes to lending. Time and time again they prove they are the best in the area! -Kelly


I honestly believe me and my family would have been homeless if it had not been for Josh , Hannah, and the whole team at First Choice Lending Service. We faced many obstacles with our loan, but with Josh's impeccable persistence, knowledge, and helpfulness we were able to tackle every one of them. He did a phenomenal job by going the extra mile to make everything as smooth as possible. I highly recommend First Choice Lending Service to anyone with lending needs. -Tamra


We started the house search what seems like an eternity ago. During the process Josh Heffington was extremely patient, helpful and responsive with my many questions. Once we had an offer accepted and moving into the next steps it was a smooth process because Josh had stayed on top of everything and ensured all information was in order and ready to go. During the final steps Cory Hyberger stepped in and helped coordinate the collection of final information so that closing deadlines were met well in advance. The quick response times of both Josh and Cory to questions or concerns was top notch and very much appreciated. Both were amazing and I would recommend!! -Ace


We had a great experience through first choice lending working with Josh and Cory! They were prompt with all of our questions and extremely timely. They made this process seamless in a crazy market. Would absolutely recommend! -Sarah


Josh and the whole team at First Choice Lending were great! They went above and beyond to make our whole home buying experience as easy and stress free as possible. They stayed in constant contact and really made us feel like we were their top priority. Would highly recommend First Choice to anyone purchasing a new home! -Mike


Josh Heffington with First Choice Lending Services was completely amazing. He was extremely diligent throughout the whole process of buying my first home. He answered every question I had no matter how difficult or easy. Highly recommend him! -Kent


Our experience with First Choice Lending was great! We got to work with Josh Heffington, who was wonderful to work with. He was very helpful. We highly recommend Josh and First Choice Lending. -Joseph


First Choice did a great job on my loan, we closed quickly before the contract closing date and with a great rate. Josh Heffington did a super job as he has done with several other people that I know who have worked with Josh. -Bo


We are first time home buyers and josh Heffington was amazing to work with. His answered all the questions we had and was always on top of getting everything done. Would definitely recommend him. -Perla


Couldn't have asked for a more professional and easy experience than with these guys. 7 years ago I opened my mortgage with them and this week I closed a refinance with them and Id do it again in a heartbeat. -Corey


I highly recommend Josh. Everything has been super smooth through the whole loan process. He's been super helpful to work with. -Haley


I can't believe how quick and easy it was to use this lending company. A great first experience with our first house! Utmost recommendation. -Craig


I worked with Josh Heffington, at the Knoxville branch. I am super impressed with his patience and knowledge. I asked a lot of questions, throughout this processs and Josh never made me feel like I was imposing or being difficult. He answered every question with poise and confidence. He reassured me throughout the process. I was never left wondering what the next step would be. Even when we did have hiccups, he informed me of the why's and what was needed to get through the hurdles. I will most definitely recommend First Choice Lending and Josh, to my friends and colleagues. THANK YOU JOSH for your due dilligence and hard work!! You made our first time buying experience a fun and exciting journey!! -Stacy


Thanks to Josh, this was a worry free experience. I will recommend him and First Choice to family and friends. -Bryan


Josh was amazing to work with throughout the whole proces . Completely suggest First Choice Lending. -Holly


My experience with the 1st choice lender it was wonderful and thank you for Josh specially who walk us through it. And they all was Wonderful. -Gladys


Josh was amazing in dealing with my new home purchase. Everything was streamlined and efficient. I will be back with any future loans I need. -Trevor


I highly recommend Josh Heffington with First Choice Lending. I called him when I was already working with another lender, just to get another opinion. Josh was very patient and answered all my questions, thoroughly explaining my options, even knowing he might not end up getting my business. This alone made me want to work with him. He was very attentive and dedicated through the whole process, and worked hard to get me the best rates at the least cost. He was always available to explain things i didn't understand. He truly conducts business with the highest level of integrity and I would happily work with him again! -Elizabeth


Josh provided top notch service for two mortgage loans. Great communication and information throughout. Rates are very competitive. I have had bad experiences with other lenders. I recommend Josh and First Choice if you want the job done right! -G Dupler


Josh was excellent as he guided us thru our VA loan. He was knowledgeable of the VA process and answered our questions. If he didn't know an answer, he researched to find it. He has a pleasant personality & we would recommend him to anyone wanting any type of loan. -Florence


Josh helped us from start to finish! He answered any questions that we had along the way. Josh and his team made the whole process smooth and painless!! I would highly recommend him and First Choice Lending!! So….give them a call. -Billy


He is always competitive…but just as importantly…very responsive & knowledgeable. Josh has helped my wife and I with multiple mortgages. He is always competitive…but just as importantly…very responsive & knowledgeable regarding his loan products. If you are looking for someone to trust your mortgage concerns with, give Josh a call. He comes highly recommended! -Taft


He was able to go above and beyond others, always answering promptly and professionally. he personally contacted the real estate agent and was extremely knowledgable of the HUD hones process. Had lots of wisdom and advice to give. -Michael


He was easy to reach and always responded promptly. Josh was wonderful to work with. He always kept us up to date on the progress of our home loan and explained how the process would work. He was always attentive, patient and kind when we had a laundry list of questions or concerns. He was easy to reach and always responded promptly. I would definitely recommend working with him for your home loan! -Amy


The man was super friendly and approachable. I was having a horrid time with another lending company when I was recommended josh. Josh was able to do in one week what the other company had done on 5 months. He was always available to answer any questions no matter what time or where he was, and even if my question was dumb or I had asked a hundred times already he was always very patient. He was great with keeping me up to date on where I stood with my closing and he seemed to know everything about USDA loans. The man was super friendly and approachable. Not only would I highly recommend josh to anybody, I already have. In short, josh is the man. -Kevin


Josh kept me informed every step of the way and gave his 110%, and anytime I had … Josh kept me informed every step of the way and gave his 110%, and anytime I had a question he quickly gave me an answer…he just went above and beyond thru the whole process. -Roma


We were able to close and have some repair escrow money set aside to take care of … Josh worked with us on a loan for a home that needed some work. We were able to close and have some repair escrow money set aside to take care of some repairs after closing. I didn't even know such a program existed, but Josh searched and worked very hard to secure our financing. I know we wouldn't have our home today without his help and two other banks denied us because of the home. -Keith


He honored his quoted rate and did a fantastic job. Josh had helped a friend of mine with a refinance a few months back so decided to give him a try. He honored his quoted rate and did a fantastic job. I would highly recommend his services to anyone looking to refinance. -Daniel


After refinancing with Josh at First Choice, I realized that it is very important … Before I refinanced I thought that all mortgage brokers were the same. After refinancing with Josh at First Choice, I realized that it is very important who you choose and I'm glad I went with him. Josh got a quit claim deed taken care of which needed signing and also helped get an old lien removed which neither my original mortgage nor previous refinance was aware of. We were also able to use an alternative title company which had lower closing fees. The rates he offered were also the best I could find for my loan value. -Garrett


I had shopped Josh with other lenders and he won out. I was selling my 2nd house … I contacted Josh via Zillow several days before calling him. I had shopped Josh with other lenders and he won out. I was selling my 2nd house and was getting a bigger house due to increase family size. He went over with me every mortgage option and I feel I got the best one for me. I would recommend Josh to anyone. -Krista


Josh and his team at First Choice lending really did a great job in preparing us … We had our eye on a short sale for a while and we got paired up with Josh on Zillow for our financing. Our realtor had warned us that a short sale could be time consuming. Josh and his team at First Choice lending really did a great job in preparing us for closing in a timely fashion. We would recommend First Choice to anyone looking to buy a home. -Thomas


We couldn't be happier, just closed on our home yesterday and Josh exceeded our expectations. I had talked to several companies through the Zillow mortgage marketplace and after a few days of shopping we decided to give Josh a shot at our loan. We couldn't be happier, just closed on our home yesterday and Josh exceeded our expectations. Our closing costs were less than his initial estimates and so we did not have to bring any money to closing we actually got the money back for the appraisal we paid for.. Josh and his whole team did a great job and would recommend his services. -Frank


Thanks First Choice lending and Josh for walking with me on this journey to buying a home! Thanks for answering my endless questions about this process and being patient with me! Josh Heffington is great choice if you are looking for a lender. -Demetria


Josh was an absolute pleasure to work with. He was very helpful and was able to answer any questions we had within just a very short time. I definitely recommend Josh and First Choice Lending. -David


We have used Joshua Heffington more than once because he is AWESOME!! Whether it was 9pm on a Friday night, 11am on a Saturday, or multiple houses we needed information on, he was on point whenever we needed him!! He definitely went above and beyond helping us buy our new home!! Thank you Joshua Heffington!! You have made this move for us so easy!! -Jessica


We have worked with Josh Heffington for two home purchases now and plan to on any future buys. He is super communicative, and works quickly. He has even helped to just give advice in types of loans that First Choice doesnt handle. I highly recommend Josh to anyone looking for a lender. You won't regret trusting him with your most important buys! -James


The service we received from Josh Heffington and First Choice Lending was excellent. We are a first time home buyer and had many questions. Josh was always there to answer all of them. I would highly recommend Josh and First Choice Lending. -Alex