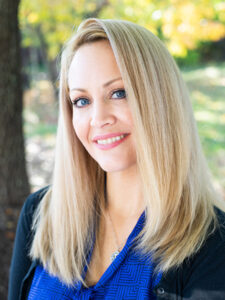 Apply with Hannah
Direct: 865-934-1462
Cell: 865-437-8285
NMLS: 832742
Email: hnelson@fcls.com
For families and individuals throughout the country, deciding to buy a home and trying to make a home purchase is one of the biggest financial processes they will ever face. For those living in Kentucky and Tennessee, First Choice Lending is willing to help navigate the often complex process of buying a home.
There are several different loan and mortgage options available to customers of First Choice, including Fannie Mae loans, FHA loans, property-only loans, and many more. Hannah Nelson and the other First Choice employees work with customers to evaluate their financial circumstances and figure out how best to serve them.
For Hannah Nelson, who has a gift for customer service and understanding how best to serve a customer in need, First Choice offers plenty of opportunities to help those around her. Hannah came to First Choice with a great deal of experience and has proven to be a highly successful agent.
Reviews:


I worked with Hannah Nelson at first choice lending services, and she was absolutely amazing. Hannah had great customer service skills and made me feel like she genuinely cared about me and my situation. Hannah had tons of knowledge about credit scores, what to do differently, and how to build the scores. I am currently in the process of following Hannah's advice to build my scores. Once I get that all squared away I will be calling her back, then we can officially start the process to get me into my own home. Thanks for all that you do Hannah. I look forward to working with you again in the future. -Justine


I love working with Hannah! She is always upbeat and professional. She's a hard worker and makes every loan seamless. She's also great with my clients! I would highly recommend Hannah to anyone! She's amazing! -Lesa


From the very beginning Hannah Nelson has been there for everything! She answered every question we had and was always available!!! We can not thank her enough for everything!!! I highly recommend her to anyone wanting to buy a home!!! Great experience!!!! Thank you Hannah!!! -Jacque


I had the pleasure of getting to work with Hannah Nelson on my home loan over the last few months she was always their to answer any questions that I had that dealt with the loan process and she always kept me informed about everything that was going on step by step even though it has been a long process she was on top of everything and always had a great attitude even if I called her a 100 times a day Thank you for everything you have done for me and my family Hannah Nelson and I hope that god truly blesses you and your family. -Kris


Hannah Nelson did an amazing job getting me my house she never gave up and my file was a difficult one so thank you Hannah for everything. -Mark


She is very, very great and helped me with everything I needed. I would recommend her to every one I know. -Clarence


We used Hannah she is awesome we had to get some stuff off our credit she helped so much and then we had to sale our home and find a new one she helped our realtor get the people who was buying our old house. Then she worked way beyond to help us on our new loan she helped us more then anyone would. She does her job way above what we thought anyone would help us I would recommend her for anyone. She is always a call away with any questions. -Laura


I am so grateful that I was able to work with Hannah for my home loan! Buying my first home, on my own, was terrifying! Hannah was very reliable and so friendly! She was willing to meet with me in person. She handled my personal information securely, explained everything, and answered all my questions, whenever I had them. Believe me, I had a ton of them! We had an original deadline of getting a USDA loan closed in 30 days which she went above and beyond to do. She worked diligently to make sure I got the best rates and that my payment would be right where I needed it to be. Hannah definitely made buying a house less stressful, and I walked away feeling confident about the entire process. -Dana


Hannah worked hard on getting me approved to buy my 1st home! She was always available night or day to answer any questions I had. She made buying my 1st home so easy! I highly recommend her!! -Samantha


We had a somewhat complicated loan, as we were trying to sell our home and purchase the family estate. It took some time for our part to get done, but Hannah was there every step of the way. She is very knowledgeable and was able to help us so much! We would definitely recommend her to anyone and should we need another loan we would go to her first! -Lee


Excellent service. Extremely helpful. Thank you Hannah for a great experience. -Julie


Hannah Nelson is absolutely amazing to work with! It wasn't for her hard work and dedication we would not be homeowners! We almost we're not able to do our loan but she pushed it in time so that we could!! Thank you, thank you, thank you Hannah! -Leann