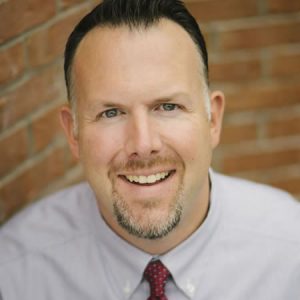 Apply with Darrin
Direct: 865-392-4168
Cell: 865-332-7824
NMLS: 1297660
Email: dperryman@fcls.com
Darrin is a Fun-loving family man, Denver Broncos fan, and a Mortgage Broker in Knoxville, TN.
He is passionate about promoting a fun customer-focused mortgage experience from the initial meeting all the way to the closing table. Darrin also believes keeping his clients and the realtors he works within the loop is key during the entire loan process.
Over the past 10 years, Darrin has held several positions in the mortgage industry and was thrilled to join the First Choice Lending team in the summer of 2016. Darrin prides himself on listening to his client's needs and helping them find the loan product that will benefit them the most. He especially loves to work with first-time home buyers and educating them at every step of the process.
Darrin moved to Knoxville, TN in 2003 and was married to his beautiful wife Sheila in 2004. He has two wild and fun-loving boys that keep him on his toes constantly. When Darrin is not helping clients, he enjoys photography, travel, and on the weekends, you can find him spending time with his friends and family and working on his wife's "honey do" list.
Darrin is beyond grateful that he gets to have a small part in making homeownership a reality for people all across Tennessee and Kentucky and strives every day to make sure the people he meets leave the closing table feeling more like family than just another customer.

Darrin helped us close on a loan in August 2017. Absolutely the best experience possible. Responded to my emails and text within minutes. He always answered calls or returned them within minutes and was in constant communication throughout the entire process. He even would go as far as calling my agent and title companies with questions I had that were normally for them. Any question I had he answered or found the answer right away. Thank you, Darrin for making this a pleasant experience. – Travis D.

Darrin helped my husband and I purchase our new home in April of this year. We were putting in an offer on a Foreclosure and needed to have a preapproval ready before we could submit the offer. He came in on a holiday so he could help me and get me a preapproval letter in time to submit my offer. Thanks to him we were also able to close in just a couple weeks! He was a fantastic help in getting things done quickly! Thanks Darrin for being awesome and sooooo helpful! – Brittany F.

Darrin is one of the most patient guys with which I have worked. I lost count of all the different numbers and properties I sent his way to have the numbers run for us. He always returned results promptly, but more importantly, consistently acknowledged receiving our message. He exhausted every resource he had to make sure that we had the best product for our family. He is friendly and dependable, and I could not recommend him more. -Travis G

My family moved to east Tennessee this summer and quickly began looking for a home. Working with Darrin through the purchasing process was the best experience we have ever had. He was professional, knowledgeable, patient and very easy to work with. The entire process from beginning to end went smoothly and it was because of Darrin's strong work ethic and expertise. Darrin is definitely your guy to get the job done. Thank you Darrin for a wonderful experience. We love our new home. -Jennifer M.


Darrin was amazing through the process of being a first time home buyer. He answered ever question that was asked (I ask a lot of questions) and went above and beyond our expectations. I will recommend him to everyone. We couldn't have done this without him. -Brandy E.